ORIGIN OF PLUMS
Like so many stone fruits, the first plums can be traced back to China, historically linking this early fruit to the Japanese plum and the European plum.
Plums were known to be cultivated in the Middle East 3 000 years ago. They were introduced into Europe during Roman times.
The English name for the plum is derived from the Greek word for the fruit "proûmnon".
DID YOU KNOW?
South African plums are in season from November to April. Grown mainly in the Western Cape – this area is one of the richest fruit growing regions in South Africa.
South African plums are produced using ethical and environmentally friendly techniques.
Total plum production:
Over 81 000 Tonnes
Exports:
61 000 Tonnes (74%)
On-farm employment:
6611 labourers
26443 dependants
CHOOSE YOUR FAVOURITE CULTIVAR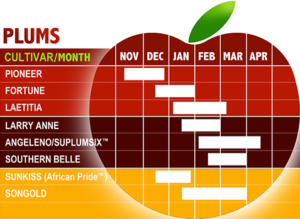 Red, yellow and black plums are available at various times of the season and offer a range of flavours, textures and colours. The seasons for different varieties overlap and there may be several varieties in season at the same time.
THE MOST POPULAR VARIETIES
African Delight: Dark-red purple coloured skin with yellow flesh . Very tasty and juicy.
Flavour King: These plums have a deep red/purple skin. The flesh is a yellow colour which turns red during ripening. It has a sweet bubblegum-like taste and melting texture.

Fortune: Are generally larger and have bright red skin. The flesh is firm and yellow, with a delicious sweet flavor..

Laetitia: Orange-yellow flesh with a melting texture and bright red skin. Really good taste and juicy.
Pioneer: Bright red skin after cold storage. The flesh is light-yellow in colour and the texture firm.

Songold: Yellow-green when picked, but develops a red blush when ripe. The flesh is yellow with a firm but succulent texture.

Sun Kiss (African Pride™) A juicy and tasty plum with bright yellow skin & yellow flesh.

Larry Anne: A dark red to black skin with white lenticels. The flesh is yellow with a good taste.
Suplumsix (Angeleno™): The skin is purple/black. Texture firm and tastes sweet.
Southern Belle: A striking black-skinned plum with melting yellow flesh. Fruit is large and sweet.
MAKING THE MOST OF YOUR PLUMS
How to choose:
Always look for firm and brightly coloured fruit. Remember, colours might develop during ripening
Hard plums may be ripened at home
Choose softer plums for immediate consumption
How to ripen:
The best way is to leave plums in a bowl at room temperature. To quicken the ripening, place the fruit in a pierced paper bag with an apple or banana
To slow ripening, place plums in the fridge
How to pit a plum:
Cut the fruit along the seam all the way around down to the pit
Twist the two halves of the peach in opposite directions
How to eat:
Plums are delicious to eat on their own
They make a flavourful ingredient in salads, meat dishes, desserts, baking, smoothies and cocktails. See our exciting recipe pages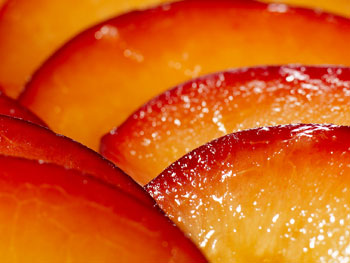 DELICIOUS WAYS TO ENJOY YOUR PLUMS. JUST ADD IMAGINATION!
Chop plums into a fruit salad
Top a pizza base with sliced plums, goat's cheese, walnuts and sprinkle sage on top
For a delightful dessert, poach plums in red wine and serve with lemon zest
Sprinkle sugar and cinnamon onto half plums and bake at 180°C for 20 minutes
Make plum dippers. Slice plums and dip into low fat yoghurt
Mix chopped plums, strawberries and peaches and spoon onto waffles or pancakes
Skewer plums, peaches, pineapples and melon and grill for a delicious fruit kebab
Dice fresh plums and sprinkle over vanilla ice cream or fridge tart