Nectarine and salted caramel tartlets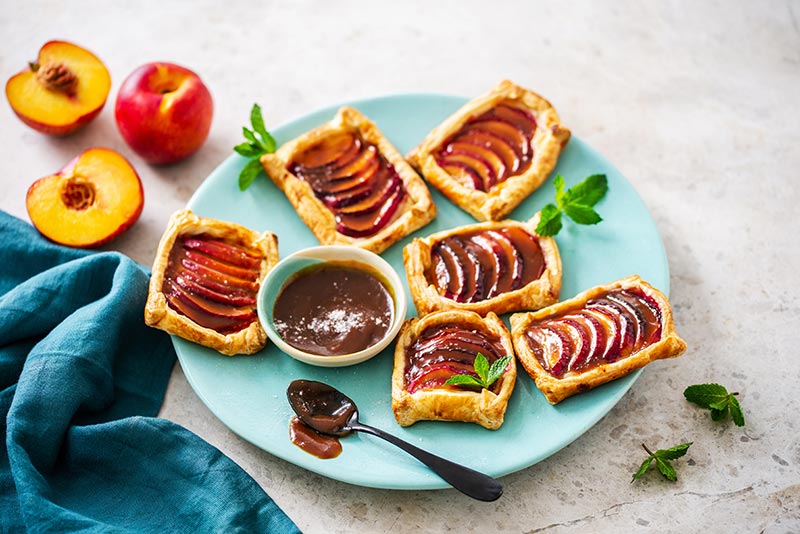 2 sheets (400g) all butter puff pastry
1 cup (200g/250ml) sugar
1 cup (250ml) cream
generous pinch of salt
4-6 nectarines
1 tsp (5ml) cinnamon
2 Tbsp (30ml) castor sugar
1 egg yolk
Preheat the oven to 200C and line 1-2 baking trays with baking paper.
To make the caramel sauce, slowly melt the sugar over a low heat until a caramel forms and heat the cream in a separate pot.
Never stir it – just gently swirl the pan round and round.
When it has turned a lovely caramel colour, add the cream and stir. Leave to simmer over a low heat for 5 minutes or until all the sugar and cream has become one.
Working on a lightly floured surface, roll each sheet of puff pastry slightly thinner then cut each sheet of puff pastry into 6 equal rectangles.
Cut the nectarine cheeks of and slice into uniform slices
Paint the centre of each piece of pastry with the caramel sauce and pan nectarines onto the middle piece leaving about 1-1.5cm pastry all around the edges.
Fold the sides in to make a little package – the nectarines should be open and visible in the middle.
Paint the edges of the pastries with egg yolk and scatter with cinnamon sugar.
Bake for 20 minutes or until golden.
Serve with extra lashings of sauce and vanilla ice-cream or cream.