Prawn and Nectarine filled Vietnamese Spring Rolls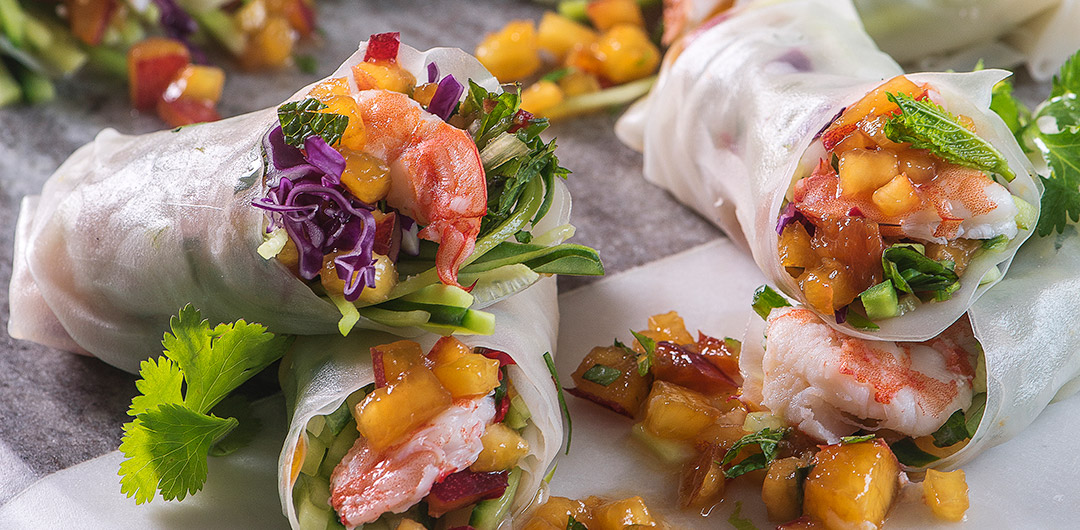 • 8 dried rice paper rounds
• 2 firm ripe nectarines diced
• 1 tsp lime zest
• 3 tsp chopped mint
• 1 Tbsp chopped fresh coriander
• 5 chopped basil leaves
• 1 chilli finely chopped
• 1 whole spring onion with tops chopped
• ½  English cucumber deseeded and cut into thin match sticks
• Shredded lettuce
• Finely shredded red cabbage
• 16 steamed tiger prawns halved lengthways
• Mix together the nectarines, lime zest, mint, coriander, basil, chilli and spring onion.
1. To make the spring rolls, place one rice paper at a time in a bowl of warm water to soften it slightly. Remove to a flat surface and place a little of the nectarine mixture onto the  centre of the rice paper, top with a little shredded lettuce, then red cabbage and lay two prawn halves onto that.
2. Now fold in the sides of the rice paper and gently roll up nice and tight. Do the same with the remaining rounds of rice paper. Pack onto tray with enough space between them so they don't stick together, and cover with a damp clean cloth.
3. When you are ready to serve, slice the rolls in half diagonally, place on a plate and serve with dipping sauce.
Make the dipping sauce first (see below).
• 1 tsp grated ginger
• 1 clove garlic finely chopped
• ½ cup rice vinegar
• ¼ cup boiling water
• ½ cup castor sugar
• 1 Tbs fish sauce
• 2 small chillies, chopped
• 1 Tbs chopped fresh coriander
• 1 tsp sesame oil
• 1Tbs finely-diced fresh cucumber
1. Place the ginger, garlic, vinegar and water in a saucepan over medium heat and add the sugar, stirring to dissolve.
2. Bring to the boil and let it bubble away for a few minutes.
3. Remove from the heat and stir in the fish sauce and chillies.
4. Stir in the chopped coriander, sesame oil and diced cucumber too, when cool and set aside.

I sometimes make these with shredded duck breast, rare thinly-sliced beef fillet, shredded chicken breasts, or even leave out the meat and go vegetarian. If you can lay your hands on some Vietnamese mint please add a leaf to your roll.
Tip: You can make these up to 2 hours ahead – just cover them with a clean damp cloth to prevent them from drying out!