Roasted Fillet with Chunky Plums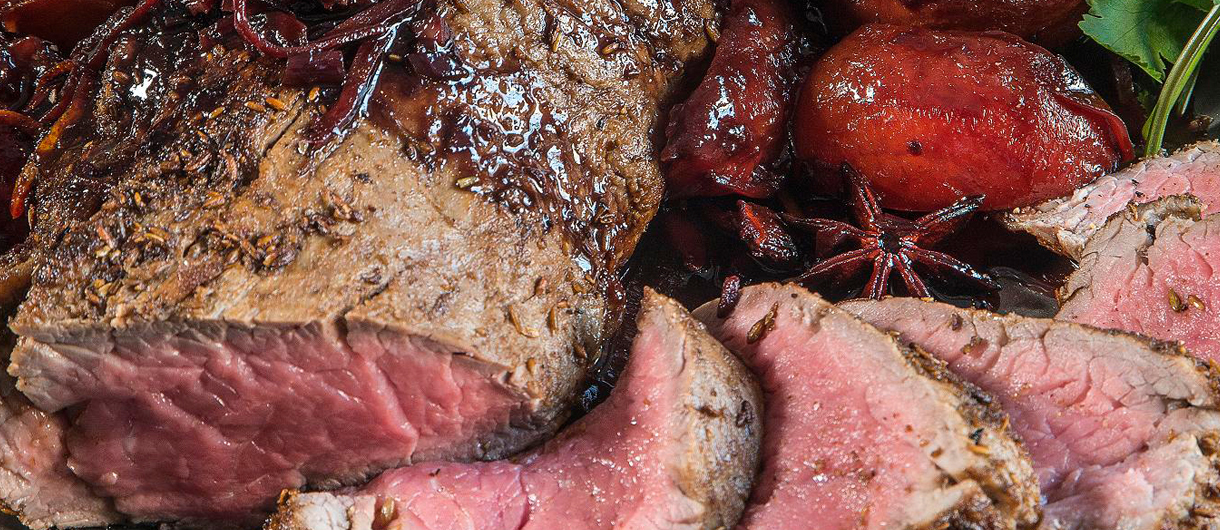 Jenny Morris' stone fruit recipes
• Serves 4
• Medium
• 1Kg Beef Fillet Trimmed
• to taste Salt
• to taste Pepper
• 2 tsp Cumin
• 300g Plums firm, red, ripe
• 2 tbls Olive Oil
• 2 tbls Onion finely chopped
• 1 clove Garlic crushed
• 1 tsp Ginger grated
• 1 Red Chilli sliced
• 3 tbls White Sugar
• 2 whole Star Anise
• 200 ml Port
• 1/2 cup Lemon Juice
• 1 Orange Juice juice of 1 orange
• 1 Orange Zest zest of 1 orange
• 1 tbls Balsamic Vinegar
• 1 tbls Soy Sauce
• 1 tsp Sesame Oil
• 2 tbls Coriander fresh
1. First, get the sauce started. Stone and halve the plums. Heat the olive oil in a saucepan. Add the onion, garlic, ginger and chilli. Cook stirring for 2 minutes and then add the sugar and star anise. Cook stirring until sugar melts and add a little port to prevent it from burning. Once the sugar has melted, add the remaining port and lemon juice, orange juice, balsamic vinegar and soy sauce. Place the plums into the mixture and simmer gently until plums are tender but not overcooked – about 8 minutes. Remove pan from heat and also remove the plums with a slotted spoon. Stir in the sesame oil, orange zest and coriander. Return the plums to the sauce and prepare the meat.
2. Rub the fillet with olive oil and then season with salt pepper and ground cumin. Heat a frying pan until it's hot and then seal the meat on all sides until it's nice and brown. Roast in the oven at 180o C for 15 minutes. Rest the fillet for 10 minutes and then slice the meat. Spoon over the plum sauce and serve.
3. Done
Tip: this sauce is also delicious with pork, chicken, lamb, duck and ostrich.