Glazed Peach Fritters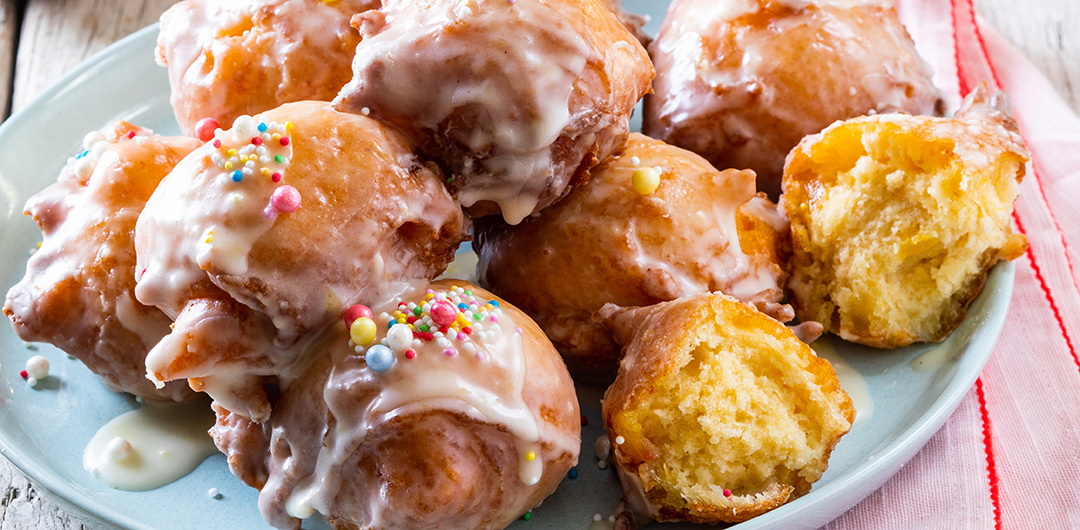 These are great served at any time, but also a fabulous addition to a children's party menu, add a little food colouring to the glaze and you are on your way.
• 2 cups all purpose flour
• 2/3 cup white sugar
• 2 tsp baking powder
• 1 tsp salt
• 3/4 cup buttermilk
• 2 XL eggs beaten
• 25 grams butter melted
• 1 tsp vanilla extract or essence
• 4 cling peaches, peeled and diced
• vegetable oil for deep frying
The glaze
• 3 cups icing sugar
• 1/2 cup orange juice
• 1/ 2 tsp vanilla extract
Optional
You can add a little food colouring to the glaze if you serve these at children's birthday party and sprinkle over a few hundreds and thousands.
1.Place enough vegetable oil for deep frying in a saucepan and heat it gently while you mix the batter so it is ready once the batter is mixed.
2. Now combine the flour, sugar, baking powder, and salt in a large bowl.
In a separate bowl, whisk together the buttermilk, eggs, butter, and vanilla extract.
Make a well in the centre of the flour and stir the wet ingredients into dry ingredients, don't over mix.
3. Fold in peaches and make sure they are evenly distributed throughout the batter.
4. Drop spoonfuls of batter into the hot oil, do not over crowd the pot, the fritters need space to expand.
5. Fry the fritter for 1-2 minutes or until golden and then turn them over and fry the other side.
6. Once the fritters are golden brown, remove them with a slotted spoon and drain them on paper towels.
7. Repeat until you have used up all the batter.
8. Dip the fritters into the glaze, and coat them completely, shake off any excess glaze and place onto a plate to allow the glaze to set before serving them.
9. Done.