Smoked Salmon Pate served with Tartare of Nectarine and Plum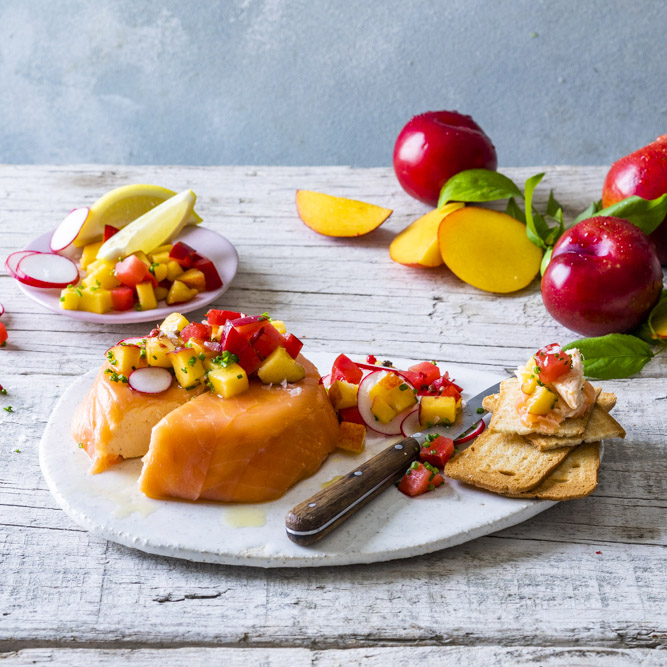 This is a delicious starter that can be made up front and topped with a delicious stone fruit Tartare.
400g smoked salmon
150 ml fresh cream
2 Tbsp cream cheese
2 tsp lemon zest
Salt and pepper to taste
Melba toast or water biscuits to serve.
Line four small ramakins with cling film.
Divide the salmon into 2 batches of 200g each.
Slice 200g of the salmon into long strips and line the ramakins with it make sure the strips
are long enough to hang over the edge of the ramakins.
Place the remaining salmon, cream, cream cheese, lemon zest and salt and pepper to
taste into a blender and process till smooth.
Divide the mixture between the 4 ramekins and smooth down with the back of a spoon, flip the salmon strips over the pate' and press down gently to seal. Cover and chill for one hour.
To serve, invert onto a serving plate and top with the Nectarine & Plum Tatar, serve with Melba toast.
Nectarine and Plum Tartare
 1 large plum stoned and cut into small blocks
2 large firm nectarines stoned and cut into small blocks
2 Tbsps chopped chives
Salt and pepper to taste
1 Tbsp olive oil
1 Tbsp lemon juice
Stir all the ingredients together
Spoon over the top of individual plates.